Description
The Osmomat 010 is a universal cryoscopic osmometer for the determination of molar masses in benzene solution and of the total osmolality in aqueous solutions.
Advantages
automatic calibration by switch
no ice formation in the lower cooling system: reliable measurements even for long working periods
measuring time approximately 1 min: valuable in case of serial measurements
measurements and determination microprocessor controlled
minimum sample volume: 50µL
disposable plastic measuring vessels save time and costs
automatic error detection and display
optional measurement documentation by integrated matrix printer: date, time, sample number and measuring result are printed
Measurement: Freezing point osmometer
The total osmolality of aqueous solutions is determined by comparative measurements of the freezing points of pure water and of solutions. Whereas water has a freezing point of 0°C, a solution with saline concentration of 1 Osmol/kg has a freezing point of -1.858 °C.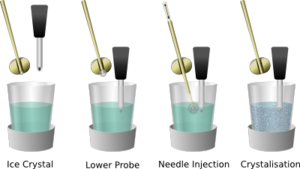 Applications
Routine measurements in medical applications as well as measurements in industry and research.The Osmomat 010 determines mol masses in benzene solutions and the total osmolality of aqueous solutions. Small sample volumes and short measuring times allow extreme measuring requirements and serial measurements.
Oil industry.Electron microscopy. Intensive care laboratories. In vitro fertilization. Hemodialysis/Hemofiltration. Forensic medicine. Polymer characterisation. General medicine. Paediatrics. Urology. Veterinary medicine. PharmacyRoutine and researchClinical Laboratories. Gynaecology. Nephrology. Botany. Dispensaries etc.
---
For more details and price, please contact MD Scientific at info@md-scientific.dk or 7027 8565.
MD Scientific has all types of calibration standards and measuring vessels in stock.
MD Scientific is an authorized distributor in Denmark for Gonotec.