Description
The Osmomat 090 enables the measurement of the average molecular weight (Mn) of polymers that are soluble in aqueous or organic solvents within the range of 10,000 to 2,000,000 g/Mol.
The measurement is highly dependent on the membrane that is used. Gonotec offers membranes with different "cutoffs" that are made of different materials, so that a suitable configuration can be offered for most applications.
This cell unit must be operated by a Gonotec Control Unit SA or Control Unit B.
Advantages
high-performance measuring cell
short response times
small sample volumes
highest measuring resolution of 0.1 mm liquid column per digit
avoids "balloon effects"
membrane diameter of 40mm
Measurement: Membrane osmometer
A membrane osmometer consists of an osmotic cell which is located in a cell thermostat. The osmotic cell is divided into two sections by a semipermeable membrane.
In the lower section, a hermetically sealed cell which is filled with pure solvent, a precision pressure measuring system is installed. The upper section, which is positioned above the semipermeable membrane, is designed as a meander-shaped channel system with a large surface. A funnel tube and a discharge valve enable rinsing and filling of the cell with solvent or polymer solution.
Due to the osmotic pressure difference between solvent and solution, a vacuum, which is related to the concentration of the osmotic actively solute particles, is generated in the lower cell half.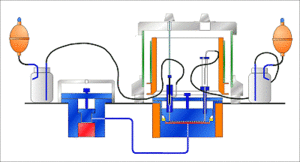 ---
For more details and price, please contact MD Scientific at info@md-scientific.dk or 7027 8565.
MD Scientific has all types of calibration standards and measuring vessels in stock.
MD Scientific is an authorized distributor in Denmark for Gonotec.