Beskrivelse
The Chloride Meter CM20 provides quick and exact determination of the chloride ion concentration in liquid micro samples with a minimum volume of 10 µl.
Modern chloride titrators measure the amount of chloride directly in a sample and are based on the principle of coulometric titration by using an end point which is determined by measuring the current between two silver electrodes.
To meet the current and future need for chloride determination, a cutting-edge digital instrument has been developed by GONOTEC: The chloridmeter CM20.
The instrument has an easy, intuitive user interface with a modern touch screen and multi-language prompts, which lead the operator through the entire measurement process.
The instrument is factory calibrated so that manual calibration by lab personnel is not required. It can be equipped with an integrated printer and the results are sent in document-ready format or a PC for data transfer can be connected via USB or RS232.
Advantages
Minimum sample volumesPerfect for determination of sweat samples
Simple operation and handlingAutomatic measuring
Fast operational readiness
IVD-control standard in OPC-ampoules
Comfortably controlled via a touch screen
Optional built-in printer
Data transfer via USB or RS232
Results remain available after switching to stand-by
Easy to handle and maintainNo need to correct the factory calibration
Measurement: Chloridemeter
The measurement principle is based on coulometric impulse titration as an absolute measurement method. Through automated sample recognition, the measurement proceeds fully automatically after the sample is inserted without the need for manual confirmation by the user.
The end of the titration is determined by the measurement electrodes, which permanently determine the conductivity of the solution. This allows the CM20 chloride meter to be operated quickly and easily without the need for many years of experience in the classic chloride determination method. If the chloride ion concentration is very low, it is possible to raise the concentration using the standard solution.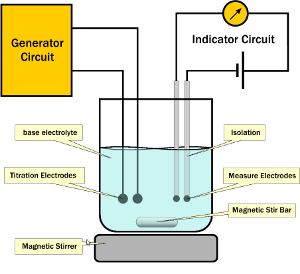 Applications
Cystic Fibrosis
Only small amounts of sweat are needed. Ready-to-use electrolyte (acid buffer and stabilization additive); complies with IVD. Required electrolyte replacement is indicated. Required electrode cleaning is indicated (frequent source of error). Reference solution 100mmol/l; complies with IVDGMP-compliant (Rili-Bäk, MPG) qualification and validation in hospitals and cystic fibrosis clinics
Other Applications
The system is used both in medical laboratory diagnostics and in industry. Chloride determination in serum, urine, sweat or other body fluids. Examination of food products for quality control purposes. Water analysis of service water and wastewater. Agricultural and ecological examinations for determination of salt content in soils. Building material analysis in the production of cement and plaster. Quality control in the chemical industry, e.g. in the production of fixing and developing baths. Production control in the preparation of antibiotics and other pharmaceutical products. Examination of the salt content of drilling muds in the mineral oil industry
For flere detaljer og pris, kontakt venligst MD Scientific via e-mail: info@md-scientific.dk eller telefon: 7027 8565.
Vi har alle Gonotec kalibreringsstandarder og measuring vessels på lager.
MD Scientific er autoriseret forhandler i Danmark for Gonotec.