Beskrivelse
The Osmomat 3000basic is the basic version of the OSMOMAT 3000. It determines the total osmomality in aqueous solutions in very small sample volumes and it is suitable for extreme measuring tasks just like the OSMOMAT 3000.
With this basic version measurements have to be recorded by the operator, as the unit is neither equipped with a printer nor data output.
Advantages
The OSMOMAT 3000basic can be controlled easily and comfortably via a touch screen display
Step by step user guidance through all measurement functions
Comfortable calibration routine2 or 3 point calibration
The tough design of the measuring equipment makes the OSMOMAT 3000basic easy to handle and to maintain
Language options: German / English
Measurement: Freezing point osmometer
The total osmolality of aqueous solutions is determined by comparative measurements of the freezing points of pure water and of solutions. Whereas water has a freezing point of 0°C, a solution with saline concentration of 1 Osmol/kg has a freezing point of -1.858 °C.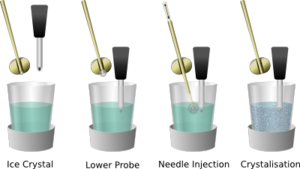 For flere detaljer og pris, kontakt venligst MD Scientific via e-mail: info@md-scientific.dk eller telefon: 7027 8565.
Vi har alle Gonotec kalibreringsstandarder og measuring vessels på lager.
MD Scientific er autoriseret forhandler i Danmark for Gonotec.