Nye UHPLC kolonner til peptider og lav molekylvægt proteiner

TSKgel UP-SW2000 kolonner pakket med 2 μm silica-baserede partikler er den seneste tilføjelse til den populære TSKgel SW-serie, the gold standard for QC-analyse af proteiner.
De nye TSKgel UP-SW2000 UHPLC kolonner med 12,5 nm porestørrelse udvider den eksisterende UP-SW serie med en mindre porestørrelse version.
De er baseret på den anerkendte overfladeteknologi i den berømte TSKgel SW-serie og letter overførslen af eksisterende HPLC-metoder fra TSKgel G2000SW/SWXL til UHPLC-systemer.
24. maj 2019
---
Ny DECADE™ Elite detektor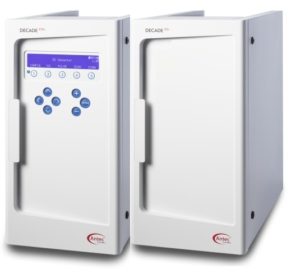 DECADE ™ Elite-detektoren giver med SenCell™ det højeste niveau af følsomhed, der findes i dag.
Mest følsomme elektrokemiske detektor
Kompatibel med ethvert HPLC-system
Temperaturstabiliseret celle/kolonnerum
ADF (avanceret digitalt filter) for at forbedre S/N-forholdet
Forskellige flowceller for optimal ydelse
Elektrokemisk detektion i HPLC kan anvendes på områder og løsninger såsom:
Neurovidenskab: neurotransmitter analyser i μ-dialysater.
Antibiotikum: antibiotika analyserer i henhold til USA og European Pharmacopeia.
Klinisk & diagnostisk: catecholaminer, metanephrines, vitaminer, polyphenoler, thioler, aminosyrer i urin eller plasma.
Fødevarer & miljø: kulhydrater af forskellig oprindelse, dvs. fødevarer, drikkevarer, naturlige produkter, planter og laktosefrie produkter.
Medicinalvarer & medicin: sulfider, aminoglycosider, API, FDG.
3. april 2019
---
Ny banebrydende teknologi med UHPLC kolonnerne 
μPAC™

Kolonnerne – μPAC™ – Pillar Array Columns – består af perfekt ordnede systemer af fritstående mikrosøjler, der sikrer:
øget følsomhed
fremragende separationsevne
hidtil uset reproducerbarhed
mindre tilbøjelige til tilstopning
færre kolonneudskiftninger
uovertruffen robusthed
Forbedrer dataproduktiviteten i dit nano-LC/MS-system til små, komplekse biologiske prøver.
27. marts 2019
---
Nye flash purification systemer med kunstig intelligens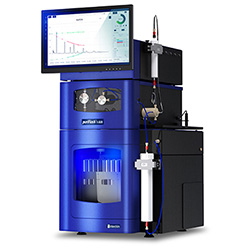 Interchim har lanceret en helt ny serie af deres puriflash systemer.
Systemerne giver mange nye muligheder såsom ny software, der kan styres fra en iPad.
Systemerne kan fra et billede af TLC-adskillelse finde  separationsbetingelser  – flow rate, solvents, hvilken kolonne der vælges – "kunstig" intelligens.
13. februar 2019
---
Ny lille gasgenerator til laboratoriet
MINI ALIZE – Nitrogen Gas Generator – til GC- og GCMS-applikationer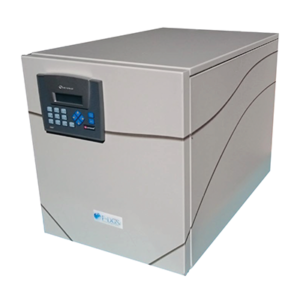 Denne lille, højrenhedsnitrogenerator er udstyret med luftkompressor er den mindste og mest lydløse på markedet (<45 dB), så den kan placeres under/på en bænk ved siden af det analytiske instrument.
Nitrogen
GC-NPD, GC-FPD, GC-ECD, GC-AED, GC-MS, TOC, Atomic absorption, Sample evaporation, TGA, DSC
Den pålidelige og effektive PSA-teknik til adskillelse af nitrogen og oxygen anvendes til at producere højkvalitets nitrogengas ved forskellige gennemløb og renheder.
Generatoren styres ved hjælp af det nyeste i HMI touchscreen teknologi til at vise processen i realtid, indløbs-/udløbstryk og iltniveau (valgfrit).
21. januar 2019
---
Nye produkter inden for nitrogenoxid – tilbehør til NOA 280i
NOx Plus Sp Met – monitoring and delivery system for inhaled NO. Measures NO, NO2 , and O2. Also available with pulse oximetry and peripheral Methemoglobin monitoring capabilities.
MGA 400, 800 – electrochemical multigas analyzer with 4 or 8 sensing capabilities, focusing on H2S, NO, NO2, CO, NH3.
CELLNO – a sterile, standard platform for growing cell cultures which can be fully integrated with NOA 280i to monitor all NO released from the media in a closed circuit. CellNO is designed to eliminate foaming of samples especially samples containing high amount of proteins.
Nitrite & S-Nitrosothiol Stabilizing Serum – a platform to extend the shelf life of samples by preventing the decay of NO concentration in high protein liquids like blood. Amber vials will be sold in a small variety of sample volumes. Solution extends viability of biological samples from a few minutes to a few weeks.
NO2 to NO converter – previously available from GE/Sievers, this unit reduces the levels of NO2 in the incoming gas to less than 2 ppm using a novel catalytic reduction process. This technology not only reduces NO2, but allows it to be measured as it is converted back to NO. This product is still in developmental stages, and is intended for use in conjunction with our family of NO analyzers (NOA 280i, NOx Plus, MGA 400)
21. november 2018
---
LabDays
Tak for de mange besøg på MD Scientifics stand på LabDays i København den 12.-13. september 2018 og de personer, der deltog i vores seminar med  M. Eysberg: "Improved Electrochemical Detection for Emerging Analyses in Pharma & Food" – vores leverandør fra Antec Scientific.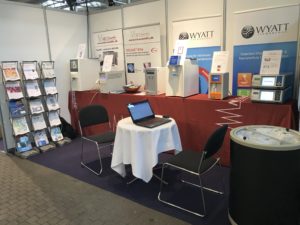 MD Scientific præsenterede følgende instrumenter på LabDays:
Har I flere spørgsmål, er I velkomne til at kontakte os.
16. september 2018