Description
Gonotec been able to automate the draining of the measuring system so that it is possible to reliably obtain a high sample throughput. The simple menu-driven operation allows for a minimum of user interaction and allows for automated operation of the Osmomat.
Advantages
minimum user involvement via fully automatic measurement of up to 20 samples
simple and fastsmall sample volume: 50 µL standard sample volume
easy calibration
measuring time: approximately 70 seconds per single measurement
disposable plastic measuring vessels save time and money
menu-driven operation
automatic error detection: display shows clear error message
sample data can be entered by means of a barcode reader
measurement documentation by means of an integrated printer
three different print versions with different information are possible, depending on the system configuration
constant stand-by mode allows operation over a long period of time
Measurement: Freezing point osmometer
The total osmolality of aqueous solutions is determined by comparative measurements of the freezing points of pure water and of solutions. Whereas water has a freezing point of 0°C, a solution with saline concentration of 1 Osmol/kg has a freezing point of -1.858 °C.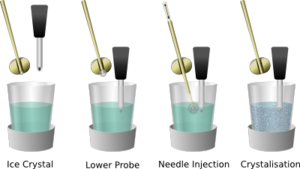 Applications
The Osmomat auto solves your problem when a large number of samples must be measured. This unit is employed when routine measurements in the medical sector or in industry and research are required. The Osmomat auto can determine the total osmolality of aqueous solutions when small sample volumes are available or a short measuring time is required.
General medicine. Routine and research. Forensic medicine. Electron microscopy. Physiology. Clinical Laboratories. Intensive care laboratories. Pediatrics. Gynecology In vitro fertilization. Urology. Nephrology. Hemodialysis/Hemofiltration. Veterinary medicine. Botany. Pharmacy. Dispensaries etc.
---
For more details and price, please contact MD Scientific at info@md-scientific.dk or 7027 8565.
MD Scientific has all types of calibration standards and measuring vessels in stock.
MD Scientific is an authorized distributor in Denmark for Gonotec.