Description
The Osmomat 3000 determines the total osmolality of aqueous solutions. The instrument requires very small sample volumes and can thus be applied for extreme measuring tasks. Its rapidity allows serial measurements in a very short time.
Download PDF-file on the Osmomat 3000.
Advantages
The Osmomat 3000 can be controlled easily and comfortably via a touch screen display.
Step by step user guidance through all measurement functions.
QM assistance for the laboratory supervisor.
2 or 3 point calibration.
The results are sent to the optional built-in printer in document-ready format.
For data transfer to a PC it can be connected via USB or RS232.
The last result remains available for reading even after automatic switching to stand-by mode.
The robust design of the measurement equipment makes the Osmomat 3000 easy to handle and maintain.
Choice of language.
Automatic calibration by using Gonotec calibration standards.
In contrary to the Osmomat 3000 basic, the Osmomat 3000 records measurement results by means of the built-in printer and via interface.The latter assists the laboratory supervisor to control calibration in compliance with his QM guidelines.
Measurement: Freezing point osmometer
The total osmolality of aqueous solutions is determined by comparative measurements of the freezing points of pure water and of solutions. Whereas water has a freezing point of 0°C, a solution with saline concentration of 1 Osmol/kg has a freezing point of -1.858 °C.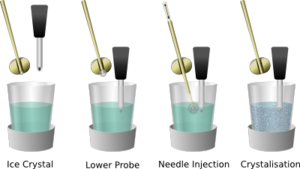 Applications
General medicine, Routine and research, Forensic medicine, Electron microscopy, Physiology, Clinical Laboratories, Intensive care laboratories, Paediatrics, Gynaecology, In-vitro Fertilization, Urology, Nephrology, Haemodialysis/Haemofiltration, Veterinary medicine, Botany, Pharmacy, Dispensaries.
---
For more details and price, please contact MD Scientific at info@md-scientific.dk or 7027 8565.
MD Scientific has all types of calibration standards and measuring vessels in stock.
MD Scientific is an authorized distributor in Denmark for Gonotec.